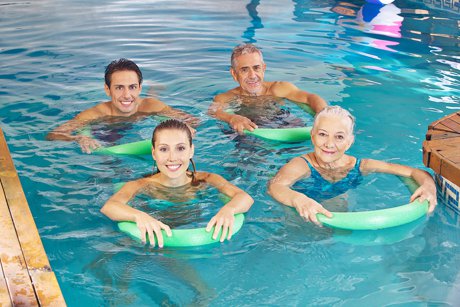 Get fit and feel great on Newtown real estate at the Newtown Athletic Club. More resort than typical gym, members to the facility enjoy a wealth of amenities from fitness to social. Work outs are accomplished on the most up to date and efficient equipment, on the track, basketball court and in the pool.
A crowded calendar offers a plentitude of classes from high energy sessions to relaxing yoga. Education classes aide in the quest for better health. Regular instruction focuses on nutrition, meal planning and life coaching. Programs are age appropriate with adaptations for youth and seniors.
Onsite aquatics are awesome. An indoor therapy pool and lap pool soothes muscles and creates competitive swimmers. Available for all ages lessons focus on water safety and skill introduction and improvement. Lifeguard and cpr instruction helps those interested in becoming certified. Exuberant swimmers try out for the club swim team. And, family swim times are great for splashing around all year long.
Families living in Newtown feel pumped up about other opportunities for children in the club. Placing an emphasis on physical fitness sports instruction is offered in both competitively and noncompetitively. Youngsters explore a variety of venues while searching for the right sport to become passionate about. Enthusiasm runs high in dance, taekwondo and gymnastics.
Life Is Energetic When Living in Newtown
While the inside of the Newtown Athletic Club is all about working hard to keep fit, on the outside relaxation is free flowing. The Escape Resort, Restaurant and Bar waits to pamper members. An outdoor pool features slippery slides to whip through into cool pools, a splash pad and lazy river. Those seeking quiet and solitude can let troubles slip away in the adult only section set up with a steaming jacuzzi, private cabanas and adult pool. Nearby the bar and restaurant takes excellent care of easing appetites and wetting whistles.
It's easy for Newton real estate residents to get started. Ten different membership programs cater to young adults, seniors and families. The Member Experience Team works with new members in establishing goals. More information on how to join can be found here.